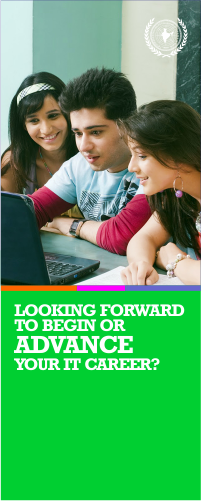 Proceed with IT- DCI Certificate Courses to begin or advance your IT career >
Certifications make you stand out in the resume stack and the workplace
We provide current, reliable and clearly organized information about the hottest IT certifications from industry leaders
IT certifications validate your ability to use a specific technology or perform a particular IT job role
Advantage Certification - showcase your skills and knowledge
Certifications are an important part of the IT universe. To advance in your career, you'll probably need to be certified in specific areas. In addition to certifications, many employers require real-world experience relevant to those certifications. You can expand your experience to match your new certifications.
The right certifications not only showcase your skills and knowledge; they can open the door to many new and lucrative opportunities. Knowing what's available and which certifications are best for you will help to guide your certification path for a long and successful IT career.
9 Ways to invest in your Career
Most people are too busy working to stop and think about how to invest in their careers. You may be thinking, "I'm doing my job, isn't that enough?" However, if you want to make sure you stay on the right career track, it takes more than just getting the day-to-day work done to be successful.
---
Suggestions to help you keep your eyes on the Career Graph.
1. Focus on the big picture. It's easy to get bogged down by the little things. You have a bad day, or a bad week, and it seems like the world is coming to an end. Stop and think about it--do you have more successes than frustrations? Concentrate on what you are doing well, and keep looking ahead.
2. Delegate and rely on technology. Are you bogged down in managing minutia, like your calendar, contact information, and errands? Consider possible ways to invest in some help for things you don't actually need to do yourself. For some people, this could involve hiring someone to help with certain tasks, but it could be just as easy as finding some great smartphone applications. Many grocery stores have shopping helper apps, banks provide applications and reminders, and there are countless calendar and day-to-day management applications you may want to try.
3. Network for results. Collecting business cards doesn't count as networking. Have goals in mind when you enter each networking event. Who will attend and whom do you want to try to meet? Know how to introduce yourself, so you are relevant for the person you're meeting. Then, follow-up and keep promising contacts engaged by suggesting a coffee meeting.
4. Propel yourself forward. Good suggests: "If your career isn't going where you want, consider hiring a career coach, picking up a few books about career success, or seeking online resources and newsletters to help keep up-to-date with advice to help you accomplish your goals." If you're stuck in a rut, it will be tough to stay motivated, so do what you can to keep sharp.
5. Keep your online presence professional and up-to-date. When people Google your name, you want to be sure they find useful information about you. Update your profiles to include a great avatar, current information, and correct contact details.
6. Find a mentor. Don't underestimate how important it is to identify someone willing to share advice and information. A mentor can make a real difference in your career. Use online research and in-person networking to help you identify someone whose career you admire, is a good match for you personally, and who is interested in you and your career.
7. Project confidence via your appearance. "You don't have to spend big bucks on a designer ensemble," Good says, but take time to select flattering and up-to-date clothing. She explains, "When you do, you will feel more powerful and confident and other people will notice."
8. Consider continuing education. If you are in a field, but you don't have the formal education you may need to succeed, consider enrolling in a degree or certificate program. "Some companies will even pay for this if you can prove it'll benefit them as well," Good notes.
9. Keep your goals in mind. Don't get caught up in the daily grind, only to wake up one day to realize you haven't accomplished everything you had hoped to do. Make a list of what you want to do. Don't be afraid to include aspirational items--dream big and you'll be more likely to wind up where you want to go.
---
The IT Facts - 2012
The 

domestic IT market

has grown 16.7 per cent to Rs 91,800 crore in 2011-12 from Rs 78,600 crore in the previous fiscal

"The growth rate of the IT domestic market is 16.7 per cent in the financial year 2011-12.

The domestic market has increased from Rs 786 billion to Rs 918 billion.

The aggregate revenue for the 

IT sector

is estimated to cross $100 billion (over Rs 5 lakh crore) mark in financial year 2011-12, from $88 billion in 2010-11

The 

information technology sector

has been growing at compounded annual growth rate (CAGR) of 17 per cent during the last five years (2007-12),

The contribution by the IT sector in India's GDP has increased from 6.4 per cent in 2008 to 7.5 per cent in 2012,

The sector has provided direct employment to 2.8 million people and indirect employment to 8.9 million people,
*Courtesy Government of India