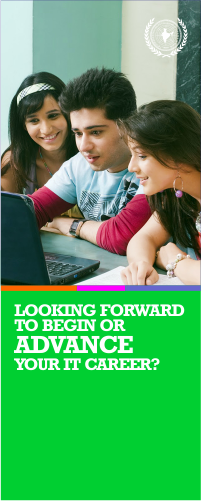 Fast Track Professional Certification Program-ITDCI
Designed by Experts from Software/Hardware Industry
Specially designed for Students
A Professional Diploma Level Certification
Content mapped to Global Certifications Standards
A Professional Diploma Level Certification
Under Consortium of IT- Development Council of India
A Compressed International Professional Course Certification
Courtesy, Canada Education CEACI, Canada
Admission Criteria: Essential Documents to submit
This Program is specially made for experienced working individuals who possess:
At least 2 years of working experience in the related field
Following is the age criterion for "Fast Track Certification Programs"
Program Age criteria
For Diploma Level certification - Minimum 16 Yrs
For Degree Level Certification - Minimum 18 Yrs
For Post Graduate Level Certification - Minimum 21 Yrs
---
Student Admission
To register & Enroll in Fast Track Professional Course Certification-ITDCI
Just follow the Standard Operative Steps >>>
Submit complete bio data through ITDCI Members OR Online for appraisal and after ascertainment, get approval from ITDCI assessment team of experts, APPLY….
Apply for ITDCI "Fast Track Certification Program"
Submit the details in the prescribed format along with the due payments & the attested Photo copies of previous qualification and/ or work experience.
ITDCI shall provide: The syllabus, list of recommended books for studying (library facility is also available on demand) and model question papers for different subjects certification.
Study and prepare for the examination within 3 months and solve the question papers at your convenient time and place.
Send the solved answer papers to ITDCI within 3-6 months by post
After receiving the answer papers, the result will be declared within 30 working days and the corresponding certificate with the mark sheet will be sent to you by registered post.
Placements: 100% Placement Assistance*
Candidate Profile
Do you have an entrepreneurial spirit and passion for independence, business excellence and delivering top-notch customer service? If so, then ITDCI is the perfect business opportunity for you. Many of our franchise owners were once IT directors, CPAs, chief operating officers, sales and marketing executives, business development managers, engineers and technology consultants. Today, they use their business acumen and industry knowledge in combination with ITDCI It's four operating systems to advance toward their dream of independence. You can too.
All it takes is ambition, the will to work hard and the exceptional franchise foundation of ITDCI to get you on your way towards realizing your dream of owning your own business.
---
Entrepreneurial spirits wanted
Professional Education Center- Business Profile
More & more business owners need assistance with their IT needs and the business will go-to place for their ongoing computer services. These business owners want to talk with businesspeople about their needs, not with technicians and that's the ITDCI difference! Our offices are run by businesspeople who understand the business side of IT. They're not technicians who just fix things.
As an ITDCI member get a concrete system to follow with tools and strategies to help make the business a success.
ITDCI Offers
The right mix of products and services to meet the demands of the local market.
Access to current technology trends pertinent to the Students of PEC.
A unique, custom-designed proactive managed services system that serves as a source of recurring revenue from remote areas.
Sales, marketing and business plan support to keep the business growing.
A team of corporate sales, marketing, and operations support personnel available for guidance and support whenever you need them.
Do the right business at the right time at your Center