Accreditation & Achievements - ITDCI
Labour Department – Shop & Establishment Act- May 28, 2012

Registration Certificate

Gazette Notification June 15, 2012

Notice - Gazette

Gazette Notified -Public Trust - Govt. of India

- Registration Certificate

Trust Manifesto- Stamped

Registered Deed Certificate

Trade Marks Registration for Name with Logo

Registration Copy Right-TM

Trade Marks with Logo Documented

Documentation 2012-Copy Right-TM

National IT Mission 2015-16

School IT Project- National Competition –Star Awards 2015-16

National Institution for Transforming India- NITI Aayog

Public Private Partnership- NGO Registration # U-ID:MP/2014/0084177 NGO

National Membership exceeds 150 marks

ITDCI surging distinguished citizens to come together for the benefit IT stakeholders globally.

2767 Students Registered with ITDCI for IT Courses & Certification

Venture 2015-16 provides multi- dimensional Government schemes & IT manpower > Job Ready

India's First Empanelment Based Project - 37 MNC's Official Support | Govt Sector Approval

1.International Licensed Pen Testing Analyst Brand Owner - Penetration Testing License ( Professional Series-ISO- ISMS ) 2.International Computer Network Security Professional Brand Owner - Empanelment Program for Indian Citizen

National Network of Professional Education Center consist of Eight Zonal Development Coordinator of 35 Regional Development Coordinator to monitor and control all India activities.

Leading Change in Changing Times Single Window PEC Spread across the Nation to provide Multidimensional courses to meet the dynamic challenges in changing Times

20k Unit Epicenters Across India Mapped

ITDCI Innovations with Cost-Efficient and Effective Solutions - Rigorously Tested and Evaluated for distinguished citizens to come together for the benefit of IT stakeholders globally.

Multi Dimensional 10 Professional Trends Addressed

Forecasting accuracy along with integrating the Demand and Supply Matrix functions across Innovations, selects those that have the maximum Development impact in your case.

Taskforce - 94k Professionals

ITDCI Empanelment > By bringing in committed Taskforce to participate as Mentors and Development Coordinators have the maximum Development impact

we want every child to grow up into a confident, successful and responsible human being.

Innovation My Govt

Digital India

Intel Technology

MS Partner Network

Robotics Associate ARDUINO

MS Trainer
Notification - UPDATES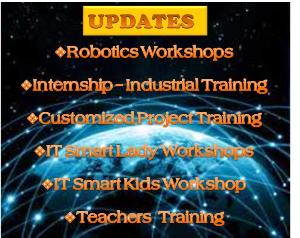 Robotics Workshops/ Internship / Customized Project Training/IT Smart Lady Workshops/ IT Smart Kids Workshop/ Intel& Microsoft Certified Courses
Associates - Value Addition
Innovation My Govt

Digital India
Calling BEGINS… Unlimited Offers
IDENTIFY YOUR DOMAIN WITH LOCATION Join the Team of Successful 94k Professionals Across INDIA
Manage & Develop 20k ITDCI Units-Epicenter Taskforce Empanelment Includes Unit Center-Colleges Project Heads - Cyber Crime State Bench DDC-District Development Coordinators IT & Computer/School Subjects Faculties Legal Advisors- LLB Graduates NDC-National Development Coordinators Nation/State- News Reporters/ Journalists NGO- All States Private Institutes All States Publication/ Contents Writers Unit Center- Schools SDC-State Development Coordinators- All States Unit Development Centers Volunteers- All States Web Designers ZDC-Zonal Development Coordinators

20k Unit Epicenters Across India Mapped
ITDCI Innovations with Cost-Efficient and Effective Solutions - Rigorously Tested and Evaluated for distinguished citizens to come together for the benefit of IT stakeholders globally.
Multi Dimensional 10 Professional Trends Addressed
Forecasting accuracy along with integrating the Demand and Supply Matrix functions across Innovations, selects those that have the maximum Development impact. 10 Professional Trends 1.Relationship Management 2.Collaborative Relationships 3.Transformational Strategy 4.Process Integration 5.Information Sharing and Visibility 6.Talent Management 7.Demand Management 8.Virtual Integration 9.Value-Based Management 10.Scale Innovations That Work in your case.
Taskforce - 94k Professionals
ITDCI Empanelment > By bringing in committed Taskforce to participate as Mentors and Development Coordinators have the maximum Development impact

we want every child to grow up into a confident, successful and responsible human being.Manage & Develop 20k ITDCI Units-Epicenter Taskforce Empanelment Includes Unit Center-Colleges Project Heads - Cyber Crime State Bench DDC-District Development Coordinators IT & Computer/School Subjects Faculties Legal Advisors- LLB Graduates NDC-National Development Coordinators Nation/State- News Reporters/ Journalists NGO- All States Private Institutes All States Publication/ Contents Writers Unit Center- Schools SDC-State Development Coordinators- All States Unit Development Centers Volunteers- All States Web Designers ZDC-Zonal Development Coordinators

Domestic Network- UE Operations-2015
"Research & Development is the life line of knowledge & skills".
ITDCI solution uses technology exactly for its strength – as a channel for scaling distribution – and to transfer pedagogy, but it does not attempt to replace Teachers That Are Still the Best Resource.Single Window UNIT Epicenters/PEC Spread across the Nation to provide Multidimensional courses to meet the dynamic challenges in changing Times. ITDCI Research & Development outcomes have come up with the incremental and efficient innovations to adopt and synchronize with leading Information Technology Developments through efficient taskforce to optimize leverage in changing times with no bars and speed breakers to obstruct the facilitation to Explore Never-Ending Possibilities ahead for the Research & Development to build concrete Knowledge & Skills foundation to enable the objective focused in 3-5 yrs tenure.
Forecasting accuracy along with integrating the Demand and Supply Matrix functions across Innovations, selects those that have the maximum Development impact in your case. Update Information HO at admin@itdci.org, Help-Line:+917879992267

"Guidelines for establishment of Unit Epicenter".
Nation-wide, States/Institutions/Districts keen to set up such Centers will be expected to replicate services offered in these model Centers to other Epicenter Centers. Appropriate Information, Education and Communication (IEC) strategies to reach out to the stakeholders, Accordingly, this is focused on establishing Unit Epicenter in a phased approach ensuring that standardized set of services are offered all across. Accordingly it is proposed to implement Model Epicenter Centers, Industrial clusters, Education & Training Institutions, Tertiary Sector Clusters, Rural and Semi-urban Centers, Corporate setups, Employment Exchanges etc. OBJECTIVES Unit Epicenter will connect local youth and other job-seekers with all possible job opportunities in a transparent and effective manner through the use of technology as well as through counseling and training. While the state-of-the-art technology driven service Portal will, in a sustained manner, provide information about available job opportunities and resources for Unit Epicenter to function effectively, the Epicenter Centers would be the pivotal outreach and counseling interface of the National Epicenter Service for teeming millions of aspiring youth from rural, semi urban areas as well as from disadvantaged sections of the society. These Centers would be staffed by motivated and competent personnel, enabled with necessary tools and infrastructure for: a. effectively and continuously assessing demand of skills in labor markets, local in other States and abroad; b. guiding youth visiting the Centers or by outreach to schools/colleges, various training institutions, about the training, on-the-job training, job opportunities, etc. according to their aptitude and potential, and c. connecting youth and other job seekers with jobs through portal, job fairs and other possible interface with employees such as campus placements. d. mobilizing employers and other placement agencies to connect to ITDCI for meeting their HR requirements
Unique Advantage-Venture
IT Career-All India Expansion
Sunrise Opportunities at Various Levels Across the Nation, If You Aspire to Achieve Challenging Position, Don't Risk To Miss IT.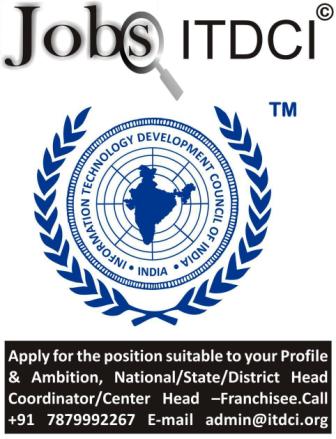 National Institution for Transforming India
National Institution for Transforming India
65 year old Planning Commission replaced by National Institution for Transforming India- NITI Aayog. NITI Aayog will be headed by the PM, while all Chief Ministers and Lt. Governor will be on its Governing Council. The justification for promoting Public Private Partnership (PPP) in infrastructure lies in its potential to improve the quality of service at lower costs, besides attracting private capital to fund public projects. This, however, is predicated on a policy and regulatory framework that provides a fair, transparent and competitive environment. Flaws in the framework can lead to unintended outcomes; a cautious and diligent approach is, therefore, necessary while formulating the rules. Source- Media- NITI Aayog
School IT Project - I C T Workshop
ProTech- Robotics is the first Workshop in the series

Options to Learn ICT in Education with Project Work/Workshops ProTech- Robotics is the first Workshop in the series, followed by other Skillful Workshops

Digital Learning

IT Folder

Comprehensive Folder

Folder 2

Folder 8

IT Folder 5

IT Folder 9

IT Folder 10
Information Technology Video
Event Highlights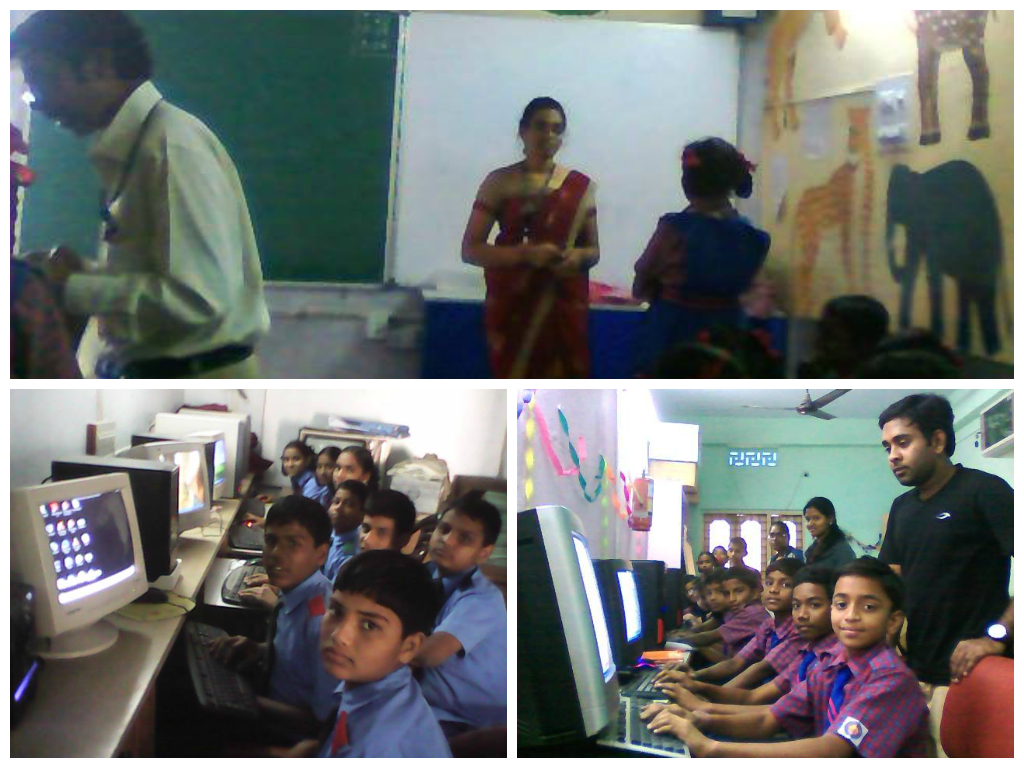 ITDCI School Project